What Can We Help You With?
Guarantee
Q IF I TRIM OR MODIFY MY ZQUIET, DOES IT VOID THE MONEY BACK GUARANTEE?
You are still covered under the 30-day trial if you boil or trim the device. Feel free to follow the recommendations in the instruction manual for a more custom fit.
Q I'D LIKE TO TAKE ADVANTAGE OF THE GUARANTEE AND RETURN ZQUIET. HOW CAN I DO THIS?
Simply email us at info@zquietcanada.com within your 30-day trial period to request an RMA number. We'll get back to you with specific instructions and an RMA number within 24 business hours.
PLEASE NOTE: Return Requests are handled exclusively through email – we can NOT provide an RMA number or process returns by phone.
Billing
Q I HAVE A BILLING QUESTION ABOUT MY ZQUIET ORDER.
No problem. Email us at info@zquietcanada.com. Our customer service team will be happy to answer your billing question.
Q I RECEIVED A CREDIT CARD DECLINE NOTICE IN AN EMAIL REGARDING MY ZQUIET. WHAT DO I DO?
Credit Card declines can happen for a variety of reasons, the best way to get this resolved as quickly as possible is to email us at info@zquietcanada.com.
How to Use
Q HOW FAST SHOULD I EXPECT TO SEE RESULTS WITH ZQUIET?
You should expect to see results the very first night you use it.
Q DOES THE ZQUIET MOVE OR SHIFT MY BITE?
A sensation of a shift in your bite or jaw positioning is common with oral appliance therapy. This sensation should go away slowly during the first hour or so after removing the device. It may seem strange now, but the reward will be quiet, restful sleep.
Q DO YOU HAVE TO MOLD ZQUIET?
Because of the universal sizing and soft material, no boiling or molding is required.
Q HOW LONG WILL THE JAW DISCOMFORT OR SORENESS LAST WHILE I'M GETTING USED TO MY ZQUIET?
Some jaw discomfort is completely normal when using a mouthpiece that repositions the lower jaw. Just like when you get sore muscles from trying a new exercise, your jaw muscles may experience temporary soreness while they adjust. We find that most people adjust to the device within 2 days to 2 weeks and after that short period of time, the discomfort disappears. In the event that you have persistent or prolonged jaw discomfort that lasts for more than 2 hours after removing the device, please discontinue use of ZQuiet, and contact your dentist.
Q CAN I WEAR ZQUIET IF I HAVE DENTURES?
In most cases, you can use ZQuiet if you have partial dentures. You would not be able to use ZQuiet with full dentures as the ZQuiet would not stay in place.
Q ZQUIET MAKES ME DROOL MORE THAN USUAL. IS THIS NORMAL AND HOW LONG WILL IT LAST?
Drooling is a common issue for many customers and usually, disappears with continued use. The body's natural response to having a device in your mouth is to salivate. Most customers find that within a range of 2 days to 2 weeks, the drooling stops and you achieve maximum comfort with your ZQuiet.
Q ZQUIET POPS OUT OF MY MOUTH. WHAT CAN I DO?
If you are new to ZQuiet, give it some time. It's a normal response to eject the mouthpiece while sleeping and this will subside with time and use.
Q WHAT CAN I EXPECT WHEN I TRY ZQUIET FOR THE FIRST TIME?
Some people have no side effects at all when trying ZQuiet for the first time. Others can have challenges with feeling pressure on the front teeth, an urge to cough, excessive saliva or unconsciously removing the device while sleeping. These experiences lessen with time and use. We recommend wearing ZQuiet for short periods of time while you are awake to help get accustomed to the device. Remember, after a short adjustment period, everyone can enjoy quiet restful sleep!
Maintenance
Q WHAT'S THE BEST WAY TO KEEP MY ZQUIET CLEAN AND DEODORIZED?
Clean your ZQuiet each morning to minimize harmful germs and bacteria as follows:
Fill a cup, bowl or basin with very warm water and a small amount of mild soap or detergent.
Using a toothbrush, scrub all surfaces of the device vigorously for about 1-2 minutes.
Rinse thoroughly with clean warm water to remove all soap.
After rinsing, shake off all excess water and pat dry with a soft clean towel.
Store device in the supplied case at room temperature to prevent damage.
Important: Do not soak ZQuiet in mouthwash, especially if the mouthwash contains alcohol.
Q HOW OFTEN WILL I HAVE TO REPLACE MY ZQUIET?
Many customers find that ZQuiet lasts (between 2 months up to a year of nightly use depending on the strength of the user's jaw. We typically recommend that most customers replace your ZQuiet every 4-8 months to make sure it's clean and working optimally.
Orders
Q I'VE READ THAT ZQUIET IS ONE SIZE FITS ALL. HOW IS THAT POSSIBLE?
ZQuiet was designed with efficiency and comfort in mind. No impressions or molding are required because the low profile, open channel design and soft material allow the device to conform to any mouth and the patented living hinge holds it securely in place.
Q I JUST RECEIVED MY ORDER CONFIRMATION AND NOTICED THAT I MADE AN ERROR. CAN I UPDATE MY ORDER BEFORE IT SHIPS?
Please email customer service at info@zquietcanada.com within a few hours of placing your order. Orders ship daily, so please email as soon as you can. We will do our best to edit the order before it ships.
Q I HAVEN'T RECEIVED AN ORDER CONFIRMATION SO I'M WONDERING IF MY ORDER WENT THROUGH.
For orders placed online, order confirmations are typically sent within a few hours after placing your order. If you haven't received an order confirmation within 24 hours, first check your junk mail or spam folder and if it hasn't been received, go ahead and email us at info@zquietcanada.com.
Q HOW DO I CANCEL MY ORDER?
In order to cancel your order, please email our customer support team at info@zquietcanada.com. Order ship daily, so please email the same day that your order was placed if you would like to cancel.
Q IS ZQUIET AVAILABLE IN RETAIL STORES?
ZQuiet is a high-performance medical device, so it is only available here at the official ZQuiet Canada website.
Q HOW DO I RETURN MY ZQUIET?
If you are not completely satisfied for any reason, just email our customer support team at info@zquietcanada.com before the end of the trial period for an RMA number.
Returns
Q HOW DO I RETURN ZQUIET?
To return your ZQuiet, simply email us at info@zquietcanada.com within your 30-day trial period to request a return merchandise authorization (RMA) number. We'll get back to you with the return address, an RMA number and instructions on processing your return within 24 business hours.
PLEASE NOTE: Return Requests are handled exclusively through email – we can NOT provide an RMA number or process returns by phone.
Toll-Free Number Coming Soon!
PLEASE NOTE: Return Requests (and obtaining an RMA) are handled exclusively by email (info@zquietcanada.com)

info@zquietcanada.com
Email us and a representative will get back to you within 24 business hours.

Cyntrex Communications Inc.
(Attn: ZQuiet Canada)
PO BOX 620 Scarborough D
Scarborough, ON
M1R 0A9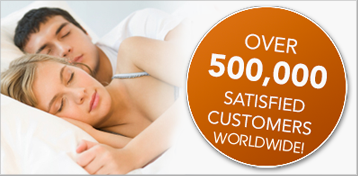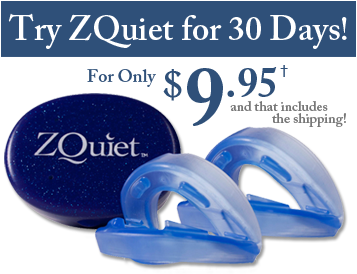 *Offer Details: With your order, you will be able to try ZQuiet for 30 days. The 30 day trial begins once you receive your ZQuiet. You pay only $9.95 today and that includes the shipping and processing ($9.95 trial fee is non-refundable). Your shipment will include the ZQuiet 2-Step Comfort System, travel case and instructions for how to use ZQuiet to treat your snoring. If you are satisfied with your purchase, simply do nothing and 35 days following the shipment of your ZQuiet, your credit card used for today's orders will be charged a one-time fee of $79.95. If you are unsatisfied for ANY reason whatsoever, simply ship back your ZQuiet within 30 days and you will not be charged another dime!